Submitted by

chandra

on Wed, 2023-08-02 10:01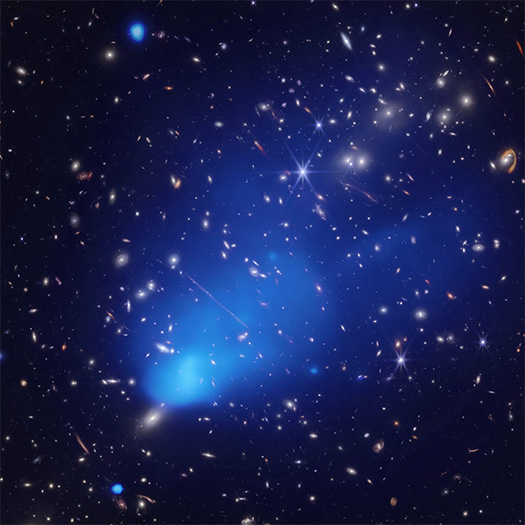 El Gordo
Credit: X-ray: NASA/CXC/Rutgers/J. Hughes et al.; Infrared: NASA/ESA/CSA, J.M. Diego (IFCA), B.Frye (Univ. of Arizona), P.Kamieneski, T.Carleton & R.Windhorst (ASU);
When astronomers discovered the galaxy cluster ACT-CL J0102-4915 in 2012 with NASA's Chandra X-ray Observatory and ground-based optical telescopes, they nicknamed it "El Gordo" (Spanish for the "Fat One") because of its gigantic mass. Scientists estimate that El Gordo contains as much as 3 million billion (3,000,000,000,000,000) times the mass of the Sun. Thanks to its heft, El Gordo acts as a natural lens, distorting the light from more distant objects behind it through a process known as gravitational lensing.
A new composite image of El Gordo shows the diffuse, superheated gas in the cluster observed in X-rays from Chandra (blue) that have been combined with a new infrared image from NASA's James Webb Space Telescope (red, green, and blue). Webb's image shows galaxies in El Gordo plus background galaxies located further away from Earth. El Gordo is located about 7.3 billion light-years from Earth and the background galaxies are at a range of different distances including several that are 12.3 billion light-years from Earth. The appearance of some of the background galaxies has been distorted into a variety of unusual and highly elongated shapes because of gravitational lensing by the cluster.
Submitted by

chandra

on Tue, 2023-07-18 13:52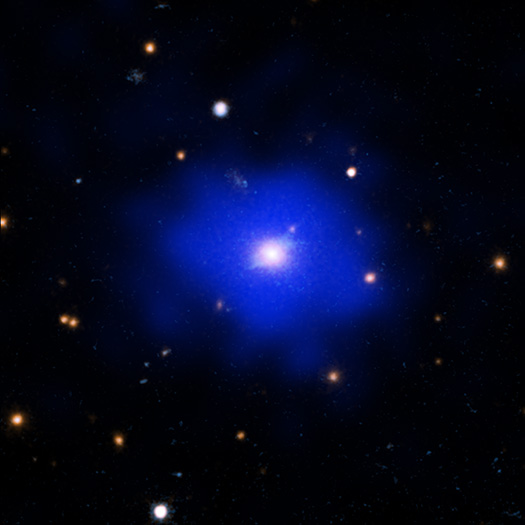 Credit: X-ray: NASA/CXC/MIT/M. Calzadilla; UV/Optical/Near-IR/IR: NASA/STScI/HST; Image processing: N. Wolk
The discovery of the most distant galaxy cluster with a specific important trait – as described in our press release – is providing insight into how these gigantic structures formed and why the universe looks like it does in the present day.
Submitted by

chandra

on Tue, 2023-03-07 10:43
We are happy to welcome Valentina Missaglia as a guest blogger. She is the first author of the paper that is the subject of our latest press release. She is currently a postdoctoral researcher at the Institute of Astrophysics — FORTH in Heraklion (Crete) in the SMILE ("Search for Milli-LEnses") group, recently funded by an ERC grant, that aims at investigating the nature of dark matter through observations of gravitational lenses on milli-arcsecond scales. Valentina earned her Ph.D. from the University of Turin (Italy) and her research focuses on radio and X-ray emission from radio-loud active galactic nuclei (which contain supermassive black holes that are rapidly pulling in material, producing intense radio waves) and how these sources interact with the surrounding medium. Before starting her Ph.D. in 2019, Valentina was a visiting student at the Center of Astrophysics | Harvard & Smithsonian, where she collaborated with Dr. Ralph Kraft on observations of galaxy clusters performed with NASA's Chandra X-ray Observatory.
Looking at the night sky with the naked eye, we can only see an infinitesimal part of what the Universe contains, and the largest part cannot even be "seen". Radio wavelengths have gifted us some of the most fascinating astronomical sources: radio-loud active galactic nuclei in the centers of galaxies, which can produce jets that extend way farther out from the optical galaxy itself.
The most powerful radio sources in the northern hemisphere are listed in a well- studied catalog, the Third Cambridge Catalog (3C), which contains the source we investigated with multiwavelength observations: 3C 297. This source appeared very intriguing in observations performed with Chandra in 2016. Therefore, we requested more time to better investigate features that we uncovered thanks to this first short observation, such as hot, X-ray emitting gas around our source.
Pages
Disclaimer:
This service is provided as a free forum for registered users. Users' comments do not reflect the views of the Chandra X-ray Center and the Harvard-Smithsonian Center for Astrophysics.
Please note this is a moderated blog. No pornography, spam, profanity or discriminatory remarks are allowed. No personal attacks are allowed. Users should stay on topic to keep it relevant for the readers.
Read the privacy statement