Submitted by

chandra

on Tue, 2022-06-07 11:44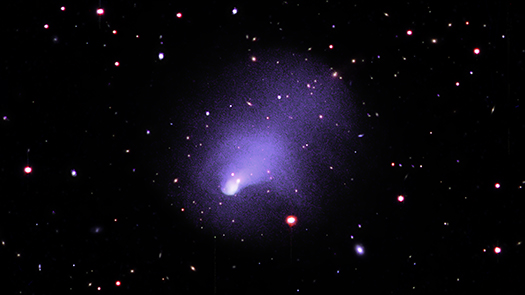 Abell 2146
Credit: X-ray: NASA/CXC/Univ. of Nottingham/H. Russell et al.; Optical: NAOJ/Subaru
A new study shows a deep connection between some of the largest, most energetic events in the Universe and much smaller, weaker ones powered by our own Sun.
The results come from a long observation with NASA's Chandra X-ray Observatory of Abell 2146, a pair of colliding galaxy clusters located about 2.8 billion light years from Earth. The new study was led by Helen Russell of the University of Nottingham in the United Kingdom.
Galaxy clusters contain hundreds of galaxies and huge amounts of hot gas and dark matter and are among the largest structures in the Universe. Collisions between galaxy clusters release enormous amounts of energy unlike anything witnessed since the big bang and provide scientists with physics laboratories that are unavailable here on Earth.