Submitted by

chandra

on Wed, 2018-02-14 13:30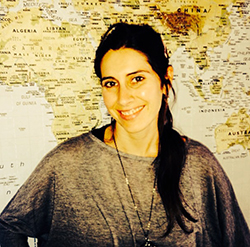 Mar Mezcua
Mar Mezcua is a postdoctoral researcher at the Institute of Space Sciences, in Barcelona (Spain), where she is from. She is a guest blogger today and the leading author of one of the two papers highlighted in our latest press release. aShe conducted this work last year with Prof. Julie Hlavacek Larrondo while at the University of Montreal (Canada).
Supermassive black holes (SMBHs) started to fascinate me when I was 13 years old. These monsters reside at the center of massive galaxies and are the most energetic sources in the Universe. When they are actively accreting, the surrounding matter that feeds them (or that the black hole accretes) can radiate over a trillion times as much energy as the Sun, being able even to outshine the galaxy in which they reside. This feeding, or accreted, material emits X-ray radiation that we can detect with X-ray satellites such as Chandra, while the material that is ejected from the SMBH in the form of jets also often emit at radio wavelengths. (Yes, SMBHs do not only swallow but also emit outflows of energetic particles!) It is for all the above that I pursued a career in astrophysics in order to study these powerful behemoths in detail.
My first close approach took place during my PhD, when I estimated the black holes (BH) masses of a sample of SMBHs whose radio jets had a peculiar morphology. To do this, I used the close relationships that had been recently found between the mass of SMBHs and some of their host galaxy properties, such as how much light was emitted by the central bulge or how quickly and where the stars in the bulge moved.
The finding of such correlations suggested that SMBHs and their host galaxies grow in tandem — that there is a co-evolution — implying that SMBHs somehow regulate the growth of the galaxy in which they reside. As simple as it might sound, this was an astonishing discovery of the late 90's. SMBHs typically have masses of between one million and one billion times that of the Sun and sizes similar to that of the Solar System, this is, nearly 10,000 times smaller than the galaxy that hosts them. That's a huge difference in size! How is it then possible that such a 'small' central SMBH controls the whole budget of a galaxy? SMBHs were getting more and more exciting every time, so after my PhD I kept on studying them using all tools I had available: radio, optical, infrared and X-ray observations!