NASA's Chandra X-ray Observatory is a telescope specially designed to detect X-ray emission from very hot regions of the Universe such as exploded stars, clusters of galaxies, and matter around black holes. Because X-rays are absorbed by Earth's atmosphere, Chandra must orbit above it, up to an altitude of 139,000 km (86,500 mi) in space. Learn about Chandra, and assemble your own mini-craft with the suggested instructions below.
---
The Chandra Observatory has three major parts: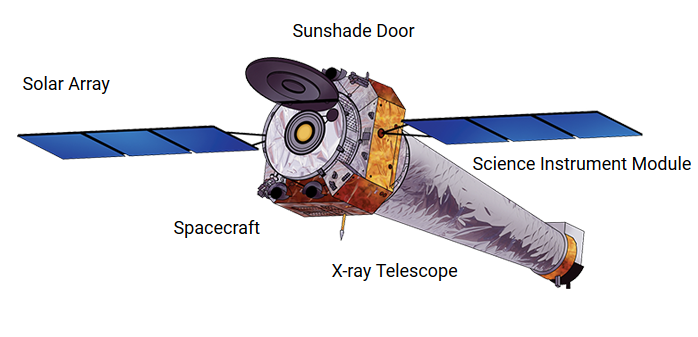 • the X-ray telescope, whose mirrors focus X-rays from celestial objects
• the science instruments which record the X-rays so that X-ray images can be produced and analyzed
• the spacecraft, which provides the environment necessary for the telescope and the instruments to work. Part of the spacecraft, Chandra's electrical power comes from its solar arrays. Located at the front of the spacecraft where radiation enters the telescope, the sunshade blocks light from our Sun.
To learn more about Chandra, visit chandra.si.edu/about/
---
Step by Step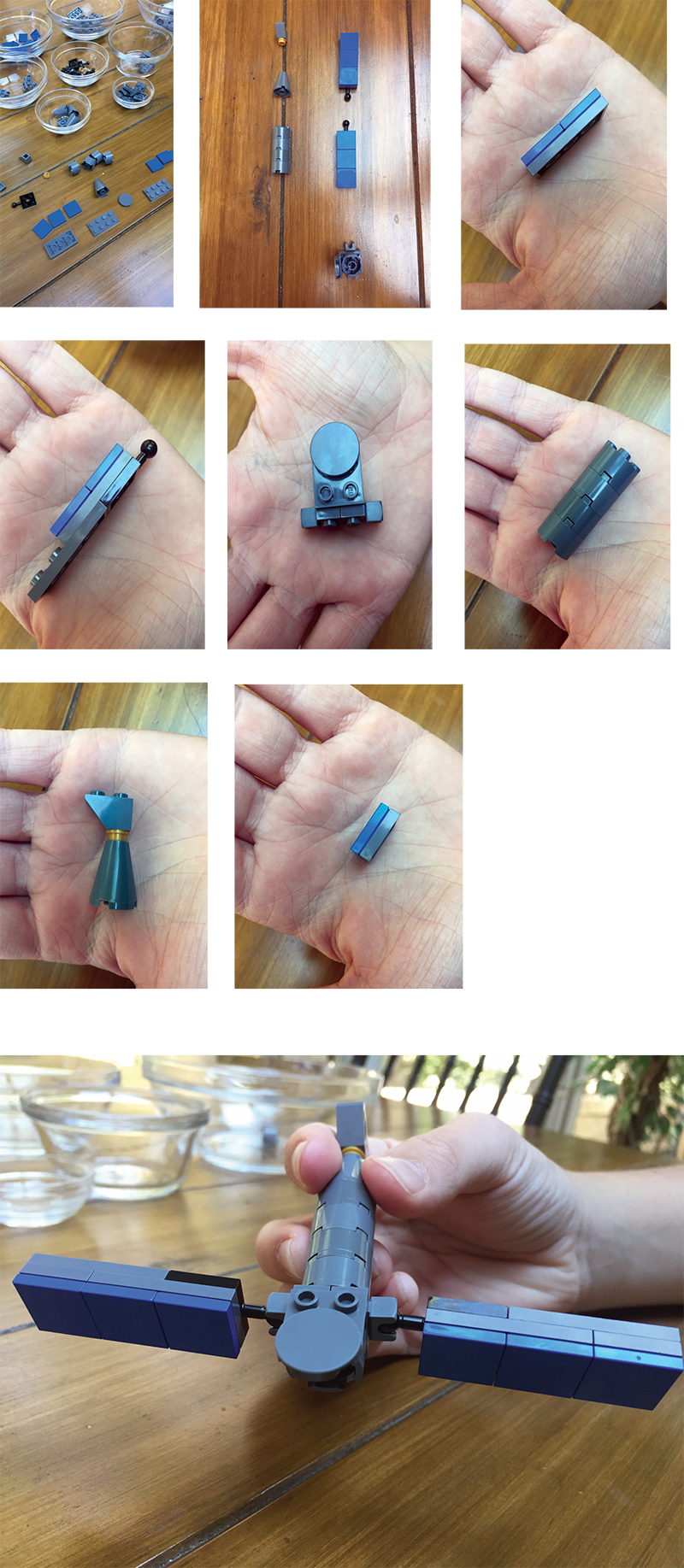 ---
Exploded views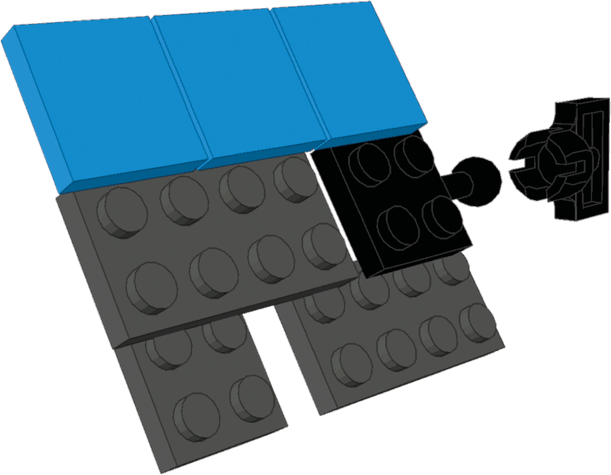 Suggested parts to create your own mini X-ray spacecraft
(Please note: These links are provided as samples only. Chandra/SAO does not endorse any commercial product.)
Front: spacecraft/face
http://www.brickowl.com/catalog/lego-dark-stone-gray-plate-2-x-2-3022 (x 1)
http://www.brickowl.com/catalog/lego-dark-stone-gray-plate-1-x-2-with-middle-ball-cup-socket-14704 (x 2)
http://www.brickowl.com/catalog/lego-dark-stone-gray-bracket-1-x-2-2-x-2-21712-44728-92411 (x 1)
http://www.brickowl.com/catalog/lego-dark-stone-gray-plate-1-x-2-3023 (x1)
http://www.brickowl.com/catalog/lego-dark-stone-gray-brick-2-x-2-round-6143 (x 1)
http://www.brickowl.com/catalog/lego-dark-stone-gray-round-tile-2-x-2-with-bottom-stud-holder-14769 (x 1)
Side: solar arrays
http://www.brickowl.com/catalog/lego-black-plate-2-x-2-with-towball-and-hole-in-plate-15456 (x 2)
http://www.brickowl.com/catalog/lego-dark-stone-gray-plate-2-x-4-3020 (x 4)
http://www.brickowl.com/catalog/lego-dark-stone-gray-plate-2-x-2-3022 (x 2)
http://www.brickowl.com/catalog/lego-blue-tile-2-x-2-with-groove-3068 (x 6)
Back: telescope and science instruments
http://www.brickowl.com/catalog/lego-dark-stone-gray-brick-2-x-2-round-6143 (x 5?)
http://www.brickowl.com/catalog/lego-dark-stone-gray-cone-2-x-2-x-2-completely-open-stud-3942-14918 (x 1)
http://www.brickowl.com/catalog/lego-pearl-gold-round-plate-1-x-1-6141 (x 1)
http://www.brickowl.com/catalog/lego-dark-stone-gray-slope-45-2-x-1-inverted-3665 (x 1)