Galactic Get-Together has Impressive Light Display
Submitted by

chandra

on Thu, 2014-12-11 13:48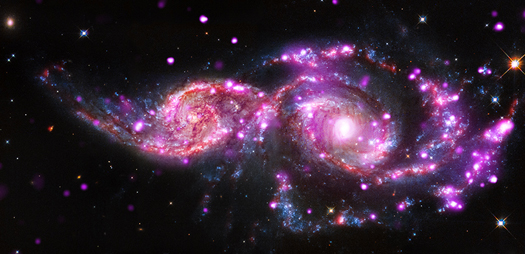 At this time of year, there are lots of gatherings often decorated with festive lights. When galaxies get together, there is the chance of a spectacular light show as is the case with NGC 2207 and IC 2163
Located about 130 million light years from Earth, in the constellation of Canis Major, this pair of spiral galaxies has been caught in a grazing encounter. NGC 2207 and IC 2163 have hosted three supernova explosions in the past 15 years and have produced one of the most bountiful collections of super bright X-ray lights known. These special objects - known as "ultraluminous X-ray sources" (ULXs) - have been found using data from NASA's Chandra X-ray Observatory.
As in our Milky Way galaxy, NGC 2207 and IC 2163 are sprinkled with many star systems known as X-ray binaries, which consist of a star in a tight orbit around either a neutron star or a "stellar-mass" black hole. The strong gravity of the neutron star or black hole pulls matter from the companion star. As this matter falls toward the neutron star or black hole, it is heated to millions of degrees and generates X-rays.
ULXs have far brighter X-rays than most "normal" X-ray binaries. The true nature of ULXs is still debated, but they are likely a peculiar type of X-ray binary. The black holes in some ULXs may be heavier than stellar mass black holes and could represent a hypothesized, but as yet unconfirmed, intermediate-mass category of black holes.
This composite image of NGC 2207 and IC 2163 contains Chandra data in pink, optical light data from the Hubble Space Telescope in red, green, and blue (appearing as blue, white, orange, and brown), and infrared data from the Spitzer Space Telescope in red.
More information at http://chandra.harvard.edu/photo/2014/ngc2207/index.html
-Megan Watzke, CXC
Disclaimer:
This service is provided as a free forum for registered users. Users' comments do not reflect the views of the Chandra X-ray Center and the Harvard-Smithsonian Center for Astrophysics.
Please note this is a moderated blog. No pornography, spam, profanity or discriminatory remarks are allowed. No personal attacks are allowed. Users should stay on topic to keep it relevant for the readers.
Read the privacy statement