Doubling Down With Rare White Dwarf Systems
Submitted by

chandra

on Tue, 2013-12-17 13:20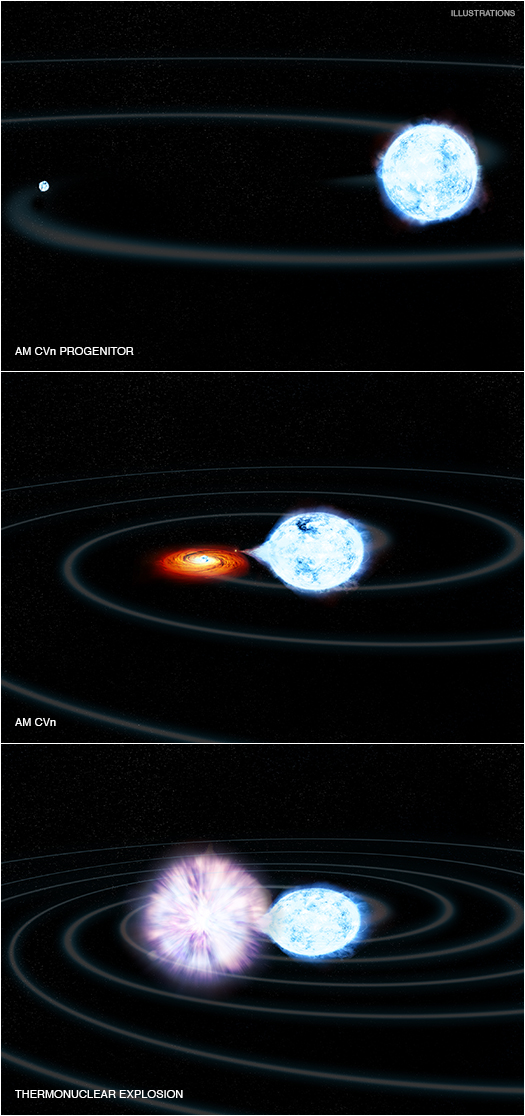 In the middle of the twentieth century, an unusual star was spotted in the constellation of Canes Venatici (Latin for "hunting dogs"). Years later, astronomers determined that this object, dubbed AM Canum Venaticorum (or, AM CVn, for short), was, in fact, two stars. These stars revolve around each other every 18 minutes, and are predicted to generate gravitational waves - ripples in space-time predicted by Einstein.
The name AM CVn came to represent a new class of objects where one white dwarf star is pulling matter from a very compact companion star, such as a second white dwarf. (White dwarf stars are dense remains of Sun-like stars that have run out of fuel and collapsed to the size of the Earth.) The pairs of stars in AM CVn systems orbit each other extremely rapidly, whipping around one another in an hour, and in one case as quickly as five minutes. By contrast, the fastest orbiting planet in our Solar System, Mercury, orbits the Sun once every 88 days.
Despite being known for almost 50 years, the question has remained: where do AM CVn systems come from? New X-ray and optical observations have begun to answer that with the discovery of the first known systems of double stars that astronomers think will evolve into AM CVn systems.
The two binary systems - known by their shortened names of J0751 and J1741 - were observed in X-rays by NASA's Chandra X-ray Observatory and ESA's XMM-Newton telescope. Observations at optical wavelengths were made using the McDonald Observatory's 2.1-meter telescope in Texas, and the Mt. John Observatory 1.0-meter telescope in New Zealand.
The artist's illustration depicts what these systems are like now and what may happen to them in the future. The top panel shows the current state of the binary that contains one white dwarf (on the right) with about one-fifth the mass of the Sun and another much heavier and more compact white dwarf about five or more times as massive (unlike Sun-like stars, heavier white dwarfs are smaller).
More at http://chandra.harvard.edu/photo/2013/amcvn/
-Megan Watzke, CXC
Disclaimer:
This service is provided as a free forum for registered users. Users' comments do not reflect the views of the Chandra X-ray Center and the Harvard-Smithsonian Center for Astrophysics.
Please note this is a moderated blog. No pornography, spam, profanity or discriminatory remarks are allowed. No personal attacks are allowed. Users should stay on topic to keep it relevant for the readers.
Read the privacy statement