Back To School: Three Simple Ways to Share the Universe With Your Child
Submitted by

chandra

on Tue, 2009-09-08 19:17
Parents can play an important part in helping their child explore the world around them. Space might seem far out there, but it can ignite your child's imagination — and can cause them to zip around your living room pretending to be a rocket among the outer planets.
We have developed a lot of educational Chandra activities and products to do just that (ignite your child's imagination that is, not send them to the outer planets!). Here are three easy things to try with your young child (ages 5-8) to bring a little bit of Chandra and the rest of the Universe right to them.

The Beautiful Universe: Podcasts
Watch a 60-second podcast together. It's amazing how fun kids find these short and pretty podcasts. They can launch great discussions on what sort of objects you're looking at -- exploding stars, spiral galaxies, huge and hot galaxy clusters.
http://chandra.harvard.edu/resources/podcasts/hd/
The Fun Universe: Printable Games and Activities
Try printing out any of the pages in this coloring and activity book. The mazes and connect the dots are particularly popular with the younger kids. And the word games are suitable for older children.
http://chandra.harvard.edu/edu/coloring_booklet.html
The Earth in the Universe: Where is Chandra now?
See where the Chandra telescope is in relation to the Earth. This is a great way to talk about geography too. Have your child guess what country is shown under the spacecraft. If your child is older, check out the tracking tutorial that discusses the Chandra orbit.
-Where's Chandra? http://chandra.harvard.edu/about/whereis.html
-Tracking Chandra http://chandra.harvard.edu/about/tracking.html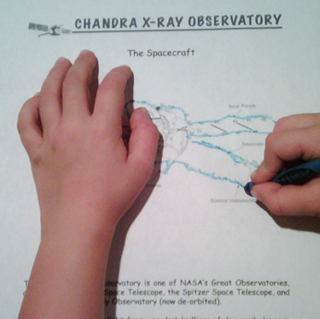 Connect the dots! If you have more ideas for this age group, share them here.
As you get settled into the new school year, you could help inspire your child to learn a little bit more about the space around us.
-- Kim Arcand (parent of a 5 year old who loves anything to do with space)
PS. Check back with us in the upcoming weeks as we'll have some recommendations for Chandra educational activities for other age groups.
Disclaimer:
This service is provided as a free forum for registered users. Users' comments do not reflect the views of the Chandra X-ray Center and the Harvard-Smithsonian Center for Astrophysics.
Please note this is a moderated blog. No pornography, spam, profanity or discriminatory remarks are allowed. No personal attacks are allowed. Users should stay on topic to keep it relevant for the readers.
Read the privacy statement