posted by
chandra
on
Mon, 2012-04-09 16:09
Continuing our interest in poetry, here is a poem inspired by Chandra's image from August 11th 2011 of VV340 , in which two colliding galaxies look like a 'Cosmic Exclamation Point.' The author was fascinated by the image and the metaphor used to encapsulate it – by, that is, the whole notion of 'cosmic punctuation' – so he decided to explore these ideas further in a poem. The poem was first published in Connotation Press: An Online Artifact. Jonathan Taylor is author of the novel Entertaining Strangers (Salt, 2012) and the memoir Take Me Home (Granta, 2007). He is Senior Lecturer in Creative Writing at De Montfort University in the U.K.
You can read two other poems from Jonathan about Chandra's discoveries in previous blog posts:
The Poetry of Discovery
History Lesson
Plus student poems inspired by Chandra releases:
Student Poems Inspired by Chandra Releases (1)
Student Poems Inspired by Chandra Releases (2)
--------------------------------------------------------------------------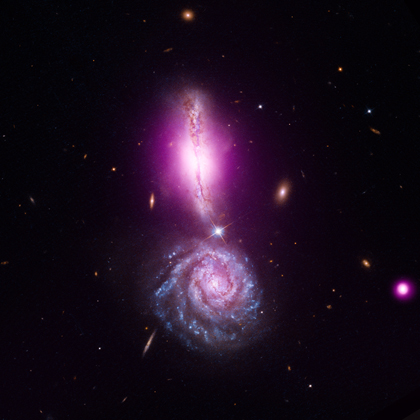 !!**&@??
     After N.A.S.A.-Chandra, 'A Cosmic Exclamation Point' (11.8.11).
     In the beginning was the Word, and the Word was with God.
     (John, 1)
302 in Arp's Atlas of Peculiar Galaxies
is UGC-9618, 450 million
light years away in Boötes constellation,
plunging shard VV340 North
piercing spiral eye VV340 South,
its million years of shrieking and shock
expressed as infrared exclamation mark,
in a night sky light-years-full of cosmic
punctu-radi-ation: stars asterisks,
Saturn in paranthesis, comets dashes,
binaries colons or semi-colons
depending on relative masses,
Horsehead Nebula a question,
black holes full-stops in gravitation,
Arp's gallery of galaxies
ampersands, dittos, obeli, ellipses—
and a typo-cosmographist might deciper
the universe as a Word under erasure,
a daring act
     of apocalyptic swearing.
- Jonathan Taylor