posted by
chandra
on
Tue, 2012-01-10 11:19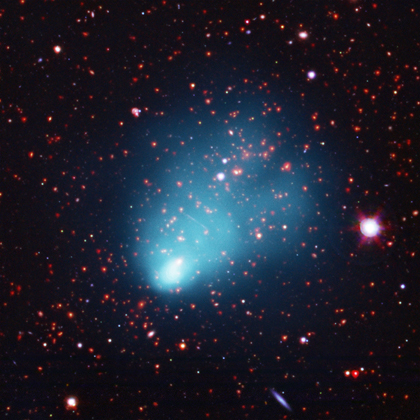 A composite image shows El Gordo in X-ray light from NASA's Chandra X-ray Observatory in blue, along with optical data from the European Southern Observatory's Very Large Telescope (VLT) in red, green, and blue, and infrared emission from the NASA's Spitzer Space Telescope in red and orange.
X-ray data from Chandra reveal a distinct cometary appearance of El Gordo, including two "tails" extending to the upper right of the image. Along with the VLT's optical data, this shows that El Gordo is, in fact, the site of two galaxy clusters running into one another at several million miles per hour. This and other characteristics make El Gordo akin to the well-known object called the Bullet Cluster, which is located almost 4 billion light years closer to Earth.
As with the Bullet Cluster, there is evidence that normal matter, mainly composed of hot, X-ray bright gas, has been wrenched apart from the dark matter in El Gordo. The hot gas in each cluster was slowed down by the collision, but the dark matter was not.
More at http://chandra.harvard.edu/photo/2012/elgordo/
-Megan Watzke, CXC